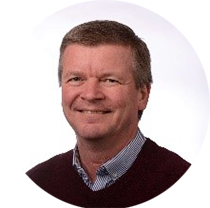 Tom Loran works for the Faculty of Geo-Information Science and Earth Observation (ITC) of the University of Twente. He is managing the primary process of Capacity Development in the Faculty and is responsible for the internationalization portfolio of ITC.
Tom has graduated from Utrecht University with a background in Physical Geography and Soil Science. He has worked for ITC since 1985, and since then he has been involved in both education and project services. Tom has worked long-term on projects in Indonesia, and he has been responsible for institutional cooperation programs in Ethiopia, Kenya, Rwanda, Tanzania and Uganda. After returning to ITC he has worked as Course Director for Master programs in Natural Resources Management and Applied Earth Sciences, and he has been managing the Education portfolio of ITC between 2007 and 2015. This included in-house education in ITC as well as joint education programs with ITC's partner institutions abroad.
Since 2015 he is responsible for the capacity development portfolio of ITC currently focusing on monitoring, evaluation and impact assessment of ITC's capacity development activities, and the development of a strategy for the years to come.